Sale price
$9.99
Regular price
Unit price
per
Sale
Coming soon
Ceramic Donut Coils
With XTAL Technology
510-threaded Connection
Knurled Edges
View full details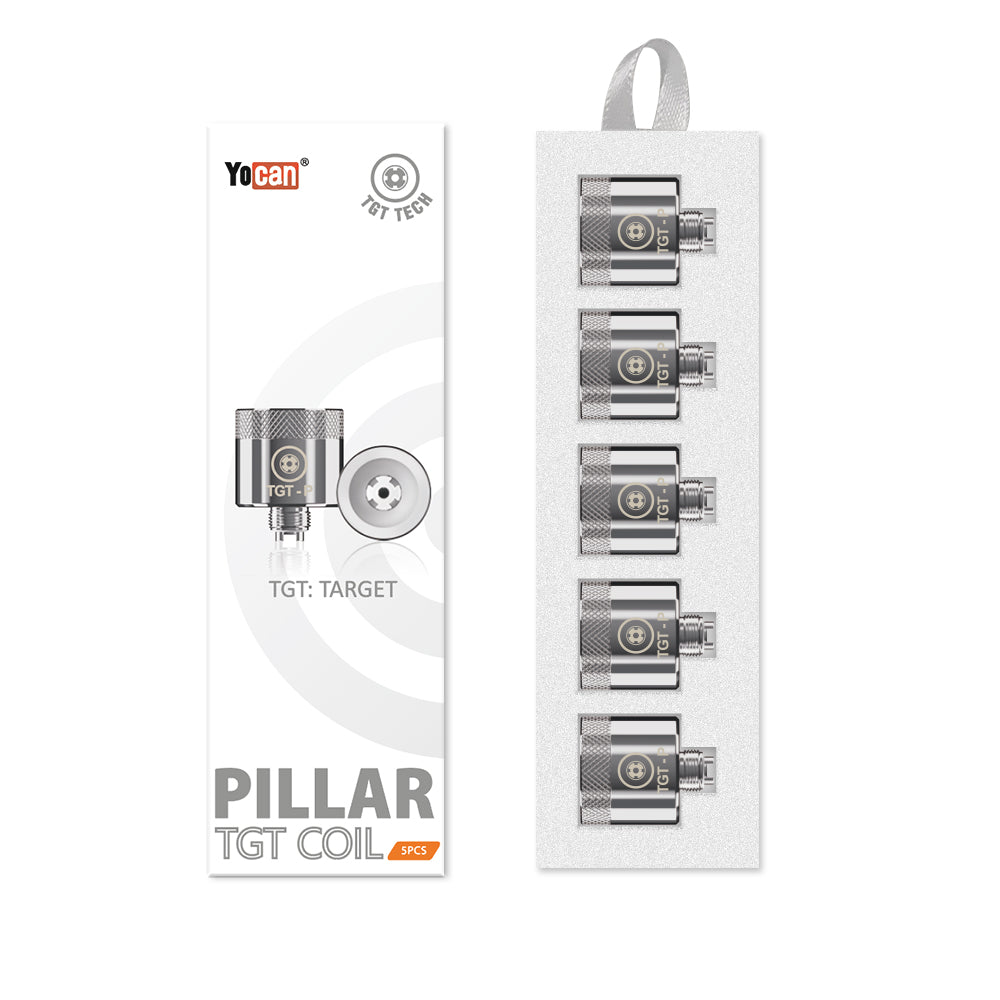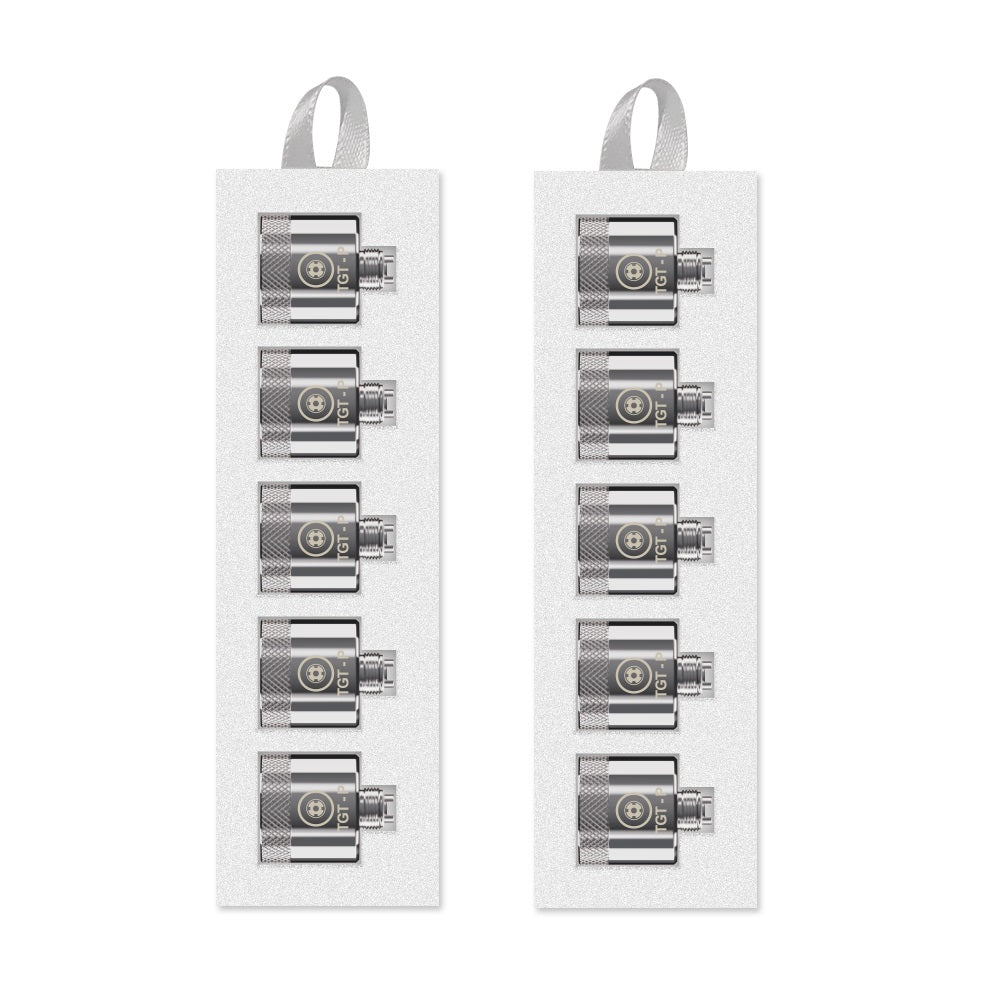 About Yocan Pillar TGT Coils
The Yocan Pillar TGT Coils are the official replacement coils designed and engineered for the Yocan Pillar TGT E-Rig. That said, it's a must have for vape enthusiasts who own Yocan's latest portable electronic rig.
Looking to elevate your dabbing experience? Here are a few reasons why you should stock up on the Yocan Pillar TGT Coils today.

Made with a Ceramic Donut Coil

Anyone who's had the pleasure of dabbing wax concentrates would have come across ceramic coils.

For the uninitiated, ceramic coils are known in the vaping community because of their low and slow burning capability. Instead of having to immediately blast your extracts with searing heat, a ceramic coil will allow it to slowly vaporize. What this means is that your wax concentrates will get to release all its active ingredients as these natural components get extracted from your waxy materials in various temperature profiles.

As an example, flavonoids — the active ingredient that gives your wax concentrate its organic taste — typically gets extracted at low temperature profiles. Conversely, the potent active ingredients from your wax concentrates that knocks you off your socks usually gets extracted at high temperatures levels.

To put it simply, a ceramic coil allows you to maximize your sessions. Plus, it ensures that you won't have to suffer from the bad experience of inhaling vapors that taste and smell like burnt concentrates.

Infused with XTAL Technology

The Yocan Pillar TGT Coils feature the brand's notable XTAL Coil technology. Featured in vaporizers such as the Yocan Evolve Plus, Yocan Dive Mini, Yocan Torch XL, Yocan Flame, Yocan Falcon, and Yocan Loki.

Yocan's XTAL Coil technology was associated with its ability to produce crystal clean vapors, making it ideal for consumers who use the Yocan Pillar TGT E-Rig for both recreational and medical purposes. Further, the XTAL technology featured in the Yocan Pillar TGT Coils is supported by the Yocan Pillar TGT E-Rig's glass bubbler, which introduces to the vapors, the element of water filtration and moisture conditioning.
On that note, consumers who find themselves coughing their lungs out when dabbing will surely find comfort and relief when dabbing with the Yocan Pillar TGT Coils.

So, if you consider yourself to be part of this consumer category, then maybe it's time to switch to a new wax vaporizer or a new portable electronic dab rig and try the Yocan Pillar TGT E-Rig and its Yocan Pillar TGT Coils.

Universal 510-threaded Connections

The Yocan Pillar TGT Coils come with universally compatible 510-threaded connections, which means that it can be used with other compatible vaporizers.

It also means that having to work with this wax coil is pretty simple and straightforward. Unlike heating elements that are built with a company's proprietary technology, the Yocan Pillar TGT Coils use a basic design allowing its owners to immediately understand how to remove and replace the coil when needed.

Imagine having to spend countless of hours just trying to understand how you can change the coil of your vape? With the Yocan Pillar TGT Coils, it's just righty tighty-lefty-loosey.

What's in the box:

5 x Yocan Pillar TGT Coils
Upgrade
Really like these coils, much smarter and smoother than the past coils used. Wondering why there's no spatter cap on these?
Travel budy
Perfect for on the go . Concentrate seeps down into the treads . That's the only flaw. If you wanna dab and not clean this is ya friend .
Extremely functional coil
The TGT coil is an incredible coils. The minus one star has nothing to do with the (particular) coil, but rather the distillate ALWAYS eventually seeps down into the threads, and the mod itself.
This NOT a 'Yocan' issue, but an issue of an UNSEALED bottom. A titanium, quartz, or SIC Crucible cup or bucket, sealed would seemingly eliminate this issue. I understand the cost involved manufacturing this grade of coil to your consumer base. Maybe a few higher end coill batches compatible with your newest Pillar , and hopefully upgrade Erigs models, and see what happens. The TGT coils are very good.
Owner
I own 2 of these beauties! They require very little cleaning and produce any kind of hit with the air control. Keep up the good work and let me know if you make any new vaporizers! Thanks Dave