Sale price
$5.99
Regular price
Unit price
per
Sale
Coming soon
USB-C Technology
Fast Charging
Stable Power Delivery
View full details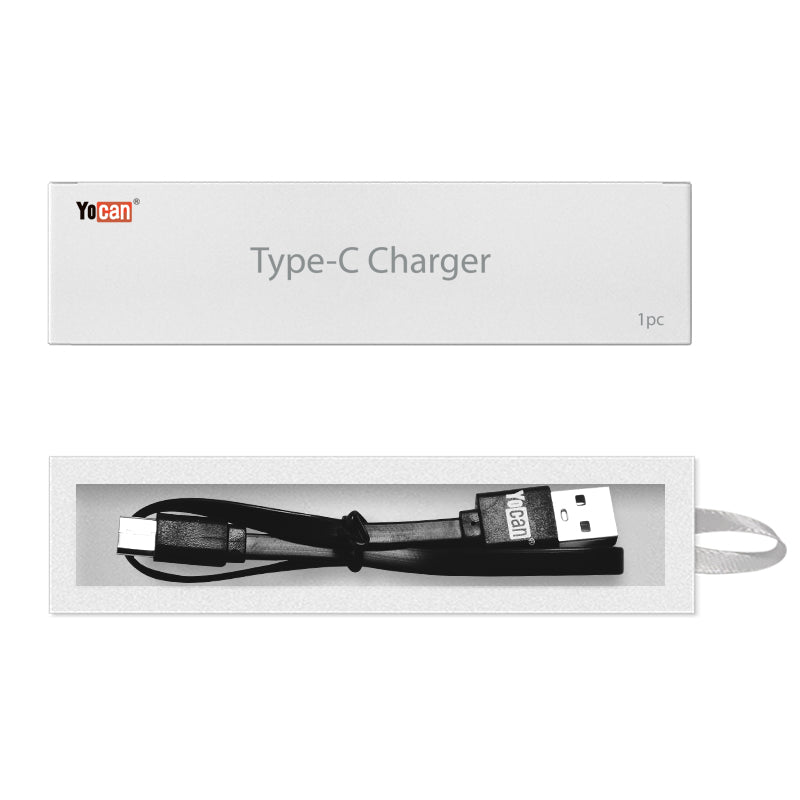 About Yocan Type-C Charger
The Yocan Type-C Charger is Yocan's default charger that uses Type-C charging technology. These charging cables are the same ones that come included in products that use the same technology in charging and makes them the official replacement part for the USB-C charging cable that comes with your vaporizers. The Yocan Type-C Charger is used on the brand's next-gen devices having took advantage of this new charging technology. One of the benefits of using USB-C is that the ports and the cables are reversible. What this means is that you no longer have to check the port and the cable before and after you plug it in because there's literally no right and wrong way to plug your cable in the charging port of the device. This technology is typically referred to as reverse insertion allowing you to plug the cable conveniently on either direction. This makes the Yocan Type-C Charger a better choice for most consumers especially the ones who are always on-the-go because they can easily connect their chargers and charging cables to juice up the battery instead of wasting time making the right connections work. Another benefit of this design is that you get to preserve the longevity of the charging cable and the charging port because there's less likelihood of damaging the port and the tip of the cable because there are no teeth on the charger.
This charger is made out of durable materials and can withstand the wear and tear of daily use as well as travel activity. The Yocan Type-C Charger is also small and light enough that you can carry it with you almost anywhere you go.
Better Charging Times
Another benefit of using this technology on Yocan's chargers and batteries is that they offer faster charging times compared to older and dated chargers. This means that you no longer have to wait for several hours just so your batteries can reach a full charge. This is one reason why many consumers forget that their batteries are charging and leave their batteries plugged in. When this happens, you risk damaging your battery and can cause it to bloat and leak which will eventually lead you to replacing the battery. Because batteries that are compatible with USB-C charging technology can be recharged faster, you can set only a certain amount of time and will not have to wait overnight for the battery to be recharged.
Speaking of which...
Using a charger that uses USB-C technology allows you to get better and a more stable power delivery. USB-C chargers typically deliver power to your batteries consistently when charging. What this means is that you run less risks of getting your battery damaged by things like over voltage, under voltage, over current, under current, and other things that can disrupt the balance of your battery. The consistent performance of a USB-C charger and charging cable makes the Yocan Type-C Charger a reliable companion for when you need a charger by your side.
What's in the box:
Uni x
It's a great little mod. I just wish the battery lasted longer from a full charge.
A Nice Long Cord
Replacement charging cord is about 4 feet long! Much more convenient than the shorty that came with the original Hit Vaporizer purchase.