Sale price
$49.50
Regular price
Unit price
per
Sale
Coming soon
Stylish Design
Integrated Wax Compartment
Magnetic Snap-On Mouthpiece
Convenient Micro USB Charging
Premium Quartz and Ceramic Coils
Long-Lasting 1100mAh Rechargeable Batteries
View full details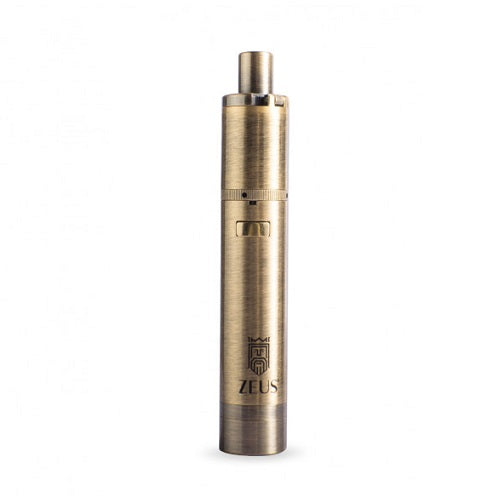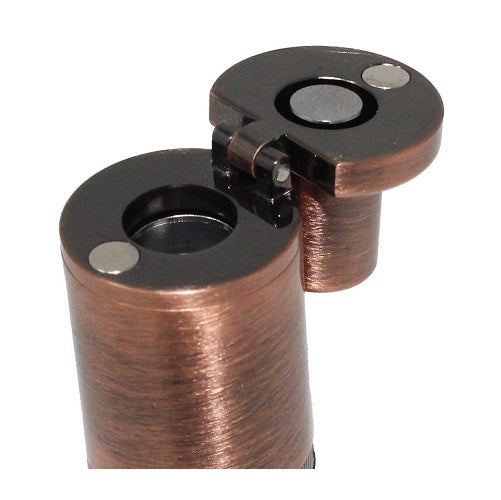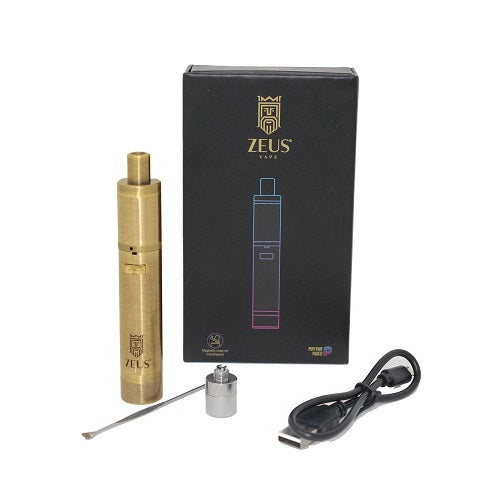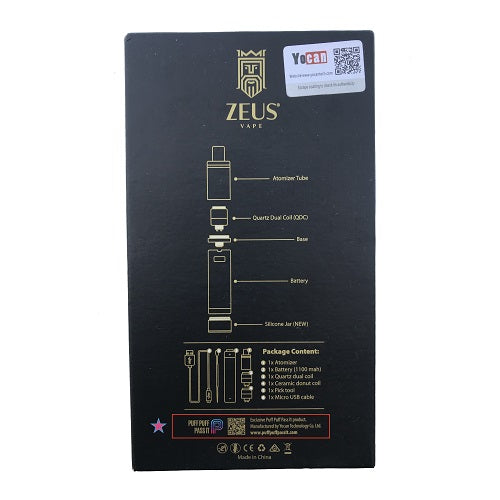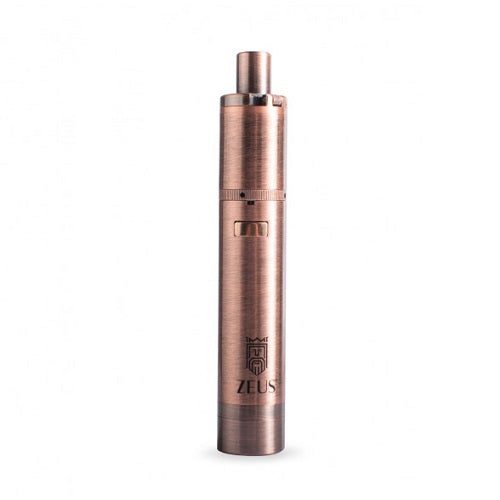 About Yocan Zeus Vaporizer
Experience your wax concentrates like never before and let the God of thunder take you to heavenly highs with Yocan's newest wax pen vaporizer. Yocan improves upon its Evolve PLus model to take on-the-go dabbers to higher highs, with cutting edge features like 15-second automatic shut off, magnetic snap-on mouthpiece, integrated wax compartment, and a powerful 1100mAh battery, you'll never find yourself wanting anything more. The Zeus vaporizer is truly a gift from the gods.

This dab pen is an extremely portable wax pen vaporizer that weighs only around 0.5 to 0.7 lbs. It's perfectly pocketable allowing you to take it almost anywhere you go without the unnecessary weight. It's built from high-quality materials and sports a brushed brass finish making the Zeus from Yocan extremely durable, capable of withstanding the toils of everyday use. The brass finish makes the Zeus as much as beautiful with age giving it a classic and timeless vibe. It's a perfect piece worthy of a place in your collection shelf and can compete with some of the best looking wax pen vaporizers in terms of aesthetics and allure.

The Yocan Zeus is a pleasure both to look at and to use, the coils are made to enhance the quality of your wax concentrates, faithfully preserving and even enhancing the flavors of your concentrates.

On-The-Go Advantage

This dab pen is designed and engineered with the active dabber in mind. A sturdy and lightweight body allows concentrate consumers to take the Zeus virtually almost anywhere without any concerns. It's backed by a convenient 15-second shut off feature which automatically turns off the Yocan Zeus after 15 seconds of inactivity. This is ideal for those who keep their vaporizers in their pocket, having an automatic shut off feature ensures you won't have any misfires or accidental issues making it a safe option for beginners opening a gateway for novices to explore vaping wax concentrates.

The Zeus from Yocan also includes an integrated wax container making it an all around vaping kit, you no longer have to suffer leaving your wax jar behind, the Yocan Zeus ensures you'll have a stash of wax concentrates readily available as you vape on your feet.
To top it all off, the mouthpiece of the Zeus wax pen vaporizer can easily be accessed through a magnetic snap-on lid which allows you to easily reload wax concentrates even when you're vaping on the fly. It's the perfect setup for people who can't afford long prep times and wants to get that hassle-free quick fix.

Premium Atomizers of Yocan Zeus Dab Pen
The Yocan Zeus dab pen comes with two wax atomizers geared towards effective and efficient concentrate consumption.

A dual quartz coil can be used if you want bigger clouds of vapor since it can easily heat up your wax concentrates while providing you with clean vapors without that burnt, tainted taste.

A ceramic donut coil ensures fuller flavors on low and slow heating giving you smoother vapors that are easy to both the lungs and the throat.

WHAT'S IN THE BOX

1 x Yocan Zeus Vaporizer
1 x ZEUS 1100mAh Battery
1 x ZEUS Atomizer With Magnetic Snap-On Mouthpiece
1 x Quartz Coil
1 x Ceramic Donut Coil
1 x Pick Tool
1 x Micro USB Charger
Buy Yocan Zeus Vaporizer Now!
Similar product to consider: Yocan Magneto
Yocan Zeus Vaporizer FAQs
What is the battery specs?
The Yocan Zeus uses a 1100mAh battery.
Yes, the Yocan Zeus is 510-threaded.
What coil does the Yocan Zeus use?
The Yocan Zeus comes with two coils one quartz coil (QDC) and one ceramic donut coil.
What kind of charger does it use?
The Yocan Zeus uses a micro USB charger.
Yocan Zeus Manual

Preparing the Yocan Zeus Vaporizer

The first step is to fully charge the Yocan Zeus Vaporizer before use. This will allow you to experience the full potential of the Yocan Zeus Vaporizer.
After the Yocan Zeus Vaporizer is fully charged, turn it on by clicking the power button 5 times. Note: The power button is located at the middle part of the battery facing outwards just above the Yocan Zeus icon.
Next, you can sterilize the heating element on the Yocan Zeus Vaporizer by pressing and holding the power button for 5 seconds two or three times consecutively. Note: perform sterilization during the first time you receive your Yocan Zeus Vaporizer. This will eliminate and get rid of any impurities that might have made its way to the heating chamber during the manufacturing process.
After you're done with sterilization, let the vaporizer sit and cool down for about 2 – 3 minutes. After it cools down, you can start loading your select concentrates to the Yocan Zeus Vaporizer.
Loading the Yocan Zeus Vaporizer

Set your concentrates on a piece of parchment paper, a dab mat, or any container where you can safely pick your concentrates when loading.
Make sure you've prepared your Yocan Zeus Vaporizer first especially if it's the first time you're using it. Note: Follow steps for preparing the Yocan Zeus Vaporizer.
Flip the mouthpiece upwards to reveal the Yocan Quartz Dual Coils (QDC) or the Yocan Ceramic Donut Coils. Removing the mouthpiece exposes the coils.
Load desired amount of concentrate onto the coil. Note: Make sure that the dab tool does not touch the coils as contact with another metal may cause the coils to break or get damaged. Simply drop the concentrates atop the QDC or onto the Yocan Ceramic Donut Coils.
Snap the mouthpiece back to close the opening where you can access the coils. Note: The mouthpiece flips open and snaps back in place through the magnetic connections making reloading and maintenance easy and straightforward.
Vaping with the Yocan Zeus Vaporizer

Make sure that you have properly sterilized the Yocan Zeus Vaporizer before use. Also, make sure that you've correctly loaded the coils prior to your vaping session.
After you've secured your desired amount of concentrates onto your desired coil, take the mouthpiece close to your lips against it and prepare to pull from the mouthpiece.
Press and hold the power button to activate the heating element at the same time inhale the vapors are produced by the Yocan Zeus Vaporizer.
Repeat this process as necessary or as the concentrates are fully consumed.
Care and Maintenance of the Yocan Zeus Vaporizer

The Yocan Zeus Vaporizer has few parts that are connected with strong and durable magnets which all he more makes it a solid and sturdy device. At the same time, it is easy to clean and maintain. To clean your Yocan Zeus Vaporizer, follow the steps below.
Turn your Yocan Zeus Vaporizer on. Five clicks will turn it on and five clicks turns it off.
Turn the Yocan Zeus Vaporizer upside down.
Commence doing a burn-off by pressing and holding the power button for 5 seconds. Repeat this process 2 – 3 times consecutively. This will cause any wax concentrate residue to melt or evaporate.
Let the vaporizer cool down.
Wipe off the Yocan Zeus Vaporizer and the parts with a dry paper towel and reassemble.
10
Been using Zeus pen for years and by far The best one made out there!
Zeus is amazing
Love my Zeus the donut coil is great. I live the loaded and this was a great choice until loaders are available again. Battery life a little low but overall pretty amazing unit!
Yocan zeus
Very happy with pipe only problem I found it can leave you with mouthfuls of what you trying to smoke.