Sale price
$29.99
Regular price
Unit price
per
Sale
Coming soon
650mAh Battery Capacity
Preset Temperature Settings
Single Power Button
Threaded Design
Quartz Dual Coil (Yocan Armor)
View full details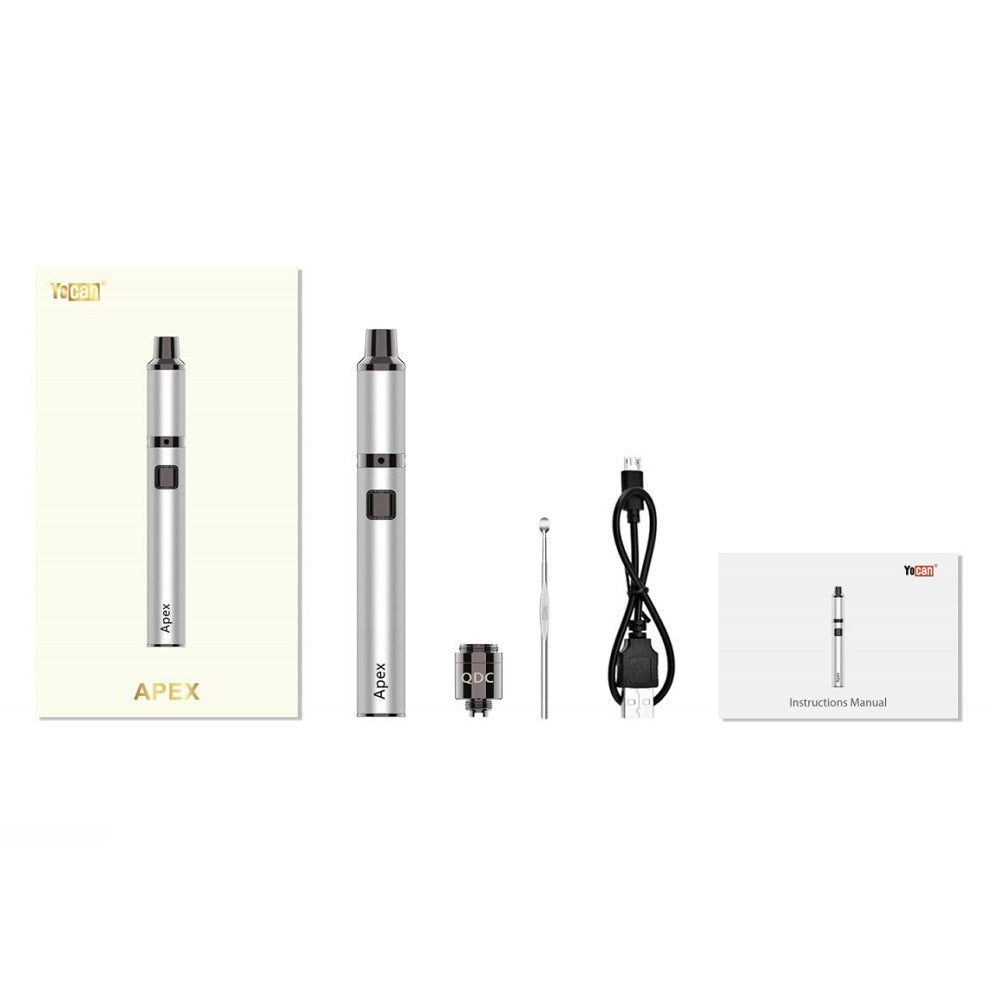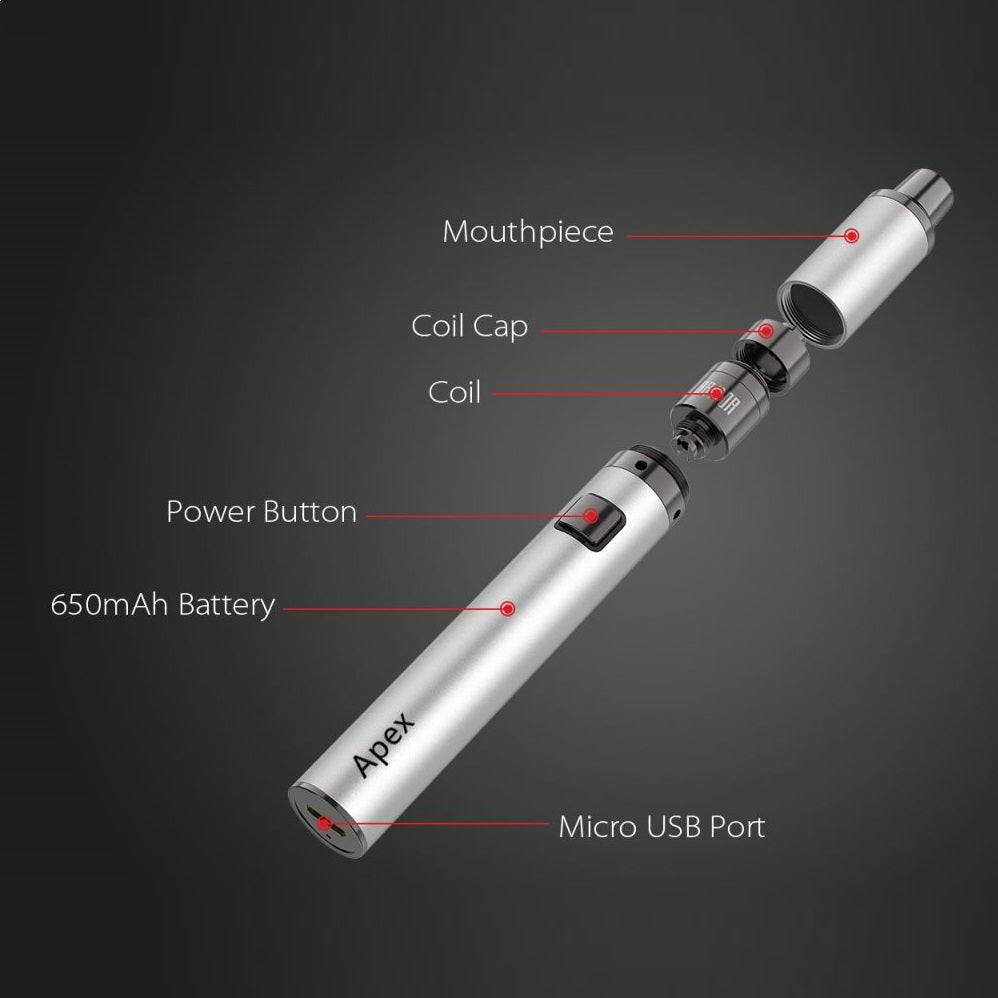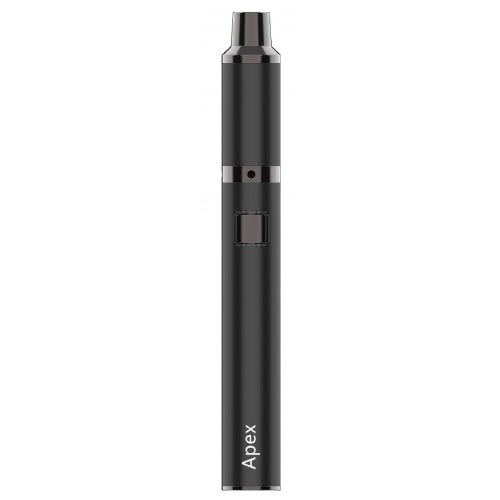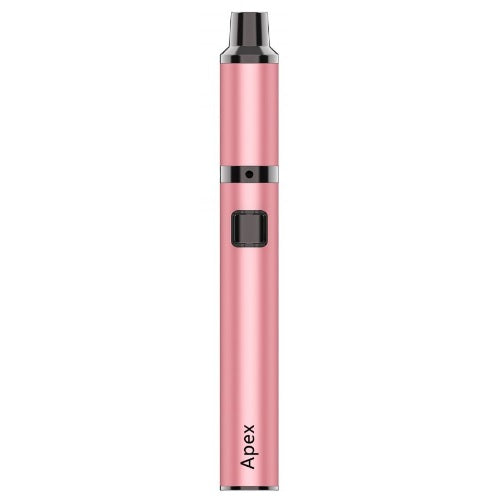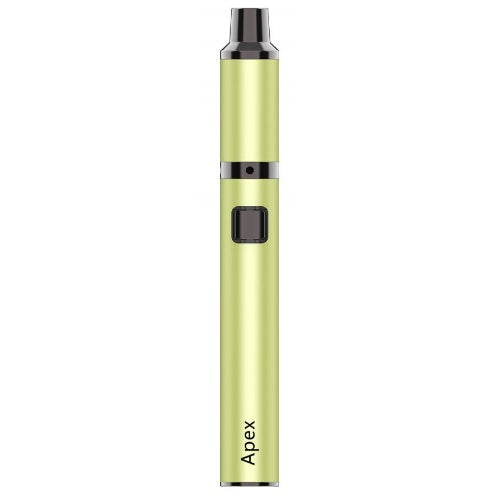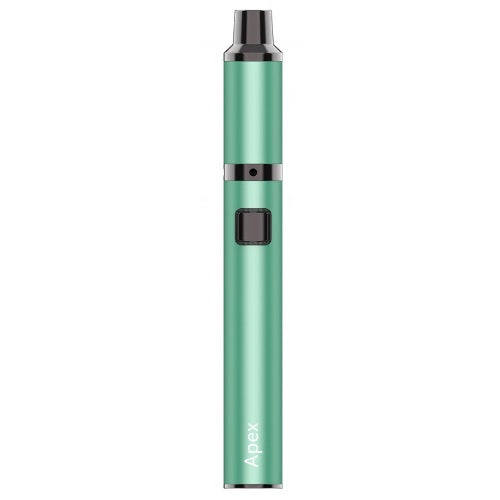 About Yocan Apex Vaporizer
The latest wax concentrate vaporizer from Yocan brings you to the apex of your sessions. Introducing the Yocan Apex Vaporizer, a dab pen that's outfitted with a single power button for simple and straightforward means of wax concentrate consumption allowing you to reap the benefits of your select materials with very little to no learning curve. It also has a threaded design that allows you to securely remove and replace its components for care and maintenance making the Yocan Apex Vaporizer a dab pen that's truly easy for both beginners and advanced consumers. Apart from being user-friendly, the Yocan Apex Vaporizer also proves that it's a versatile unit. This dab pen is equipped with preset temperature settings that allow you to switch the temperature level so you can adjust it depending on your preference. It's a device that can keep up with your needs and offer more than what the average wax pen vaporizer can.
The Yocan Apex Vaporizer is outfitted with special technology allowing it to heat in waves. It's a rather new feature not only for Yocan products but also in dab pens in general. If you're interested to know what more does the Yocan Apex Vaporizer has to offer, let's check it out.
Heating in Ripples
The Yocan Apex Vaporizer offers a rather new feature you'll be hard-pressed to find on other Yocan products as well as in most dab pens on the market. This small and compact vaporizer from Yocan heats up in waves that allow you to enjoy fresher tastes, stronger flavors, and more potent hits. The heating waves work by altering the temperature level from your chosen heat setting to a constant variable of 2.5 volts. That means whether you've selected to dab on the Yocan Apex Vaporizer's lowest setting or the highest setting, it will just go from your selected profile to 2.5 volts then back to your selected heat profile and back to 2.5 volts. Instead of using steady or progressive heating like the brand's previous dab pens do, the Yocan Apex Vaporizer instead offers heating your select wax concentrates in waves. This means that while the temperature plays around, it can still maintain the level of heating you've selected and at the same time ensure that your extracts will not be heated beyond the point of combustion.
This new technology aims to break the barriers of conventional wax pen vaporizers and redefine portable wax vaporization altogether. If you want to experience the new generation of extract vapes, then the Yocan Apex Vaporizer is what you should be looking out for.
A Decent Battery
The Yocan Apex Vaporizer is outfitted with a 650mAh battery that's just right for a day of dabbing. Especially when you're always out and about, having a battery with capacity such as the Yocan Apex Vaporizer allows you to enjoy significant sessions in between charges. You'll find that if you're a heavy consumer, the Yocan Apex Vaporizer's battery can last you a good amount of time and can provide you with significant results before it requires to be recharged. On that same note, for light users, the Yocan Apex Vaporizer's battery may last a day or two depending on how frequently they use it and how hard they hit on it. Nevertheless, you're sure that when you pop out the battery, it's not going to die on you just after a few sessions. You can have been producing some of the best and most affordable dab pens on the market for quite some time now and their formula for a dependable battery has not disappointed its customer base. It's a decent battery that can last you more than the usual sessions especially when compared to cheaper dab pens.
As we've briefly mentioned above, the Yocan Apex Vaporizer is outfitted with a preset temperature setting. Three profiles are available, the lowest setting runs at 3.4 volts while the middle-temperature profile is at 3.8 volts. The highest temperature profile on the other hand jumps to 4.2 volts which gives you a well-rounded heat setting that's perfect for all your dabbing needs. Plus, having paired with this vaporizer's unique heatwaves technology each temperature setting delivers satisfying results.
The battery can be charged with an inclusive USB charging cable and receives a micro USB tip at the end. This allows you to recharge your battery in more ways than one. Instead of having to go reach out for a wall outlet, the Yocan Apex Vaporizer's USB charging capabilities allow you to recharge the battery via a desktop or laptop computer. It's basically one of the best batteries in this category for the price.
A Reliable Heating Element
The Yocan Apex Vaporizer uses the Yocan Armor's quartz dual coils or QDC. The said heating element has played an iconic role and was known for its ability to deliver tasty vapors that carry a decent amount of potency. Thanks to its high-quality quartz rods, the Yocan Apex Vaporizer's quartz dual coils allows fast and efficient heating of your select wax concentrates so you can experience fast results when you dab your favorite wax concentrates. There's no need to wait for several seconds for the heating element to ramp up and produce vapors. The Yocan Apex Vaporizer allows almost instantaneous heating making it ideal for both medical and recreational consumers. It's a great way for you to reap the benefits that your extracts have to offer be in the form of therapeutic medication or euphoric recreation.
The dual quartz coils also promote clean and safe vaporization of your extracts which makes it an even better choice for those who are conscious of their consumption methods. The Yocan Apex Vaporizer is truly the apex of wax concentrate vaporization and should be a part of your vaping arsenal whether you're a beginner or an advanced vaporizer user. Make sure to get the Yocan Apex Vaporizer now!
Buy Yocan Apex Vaporizer Now!
Yocan Apex Vaporizer FAQs
What is the specification of its battery?
The Yocan Apex uses a 650mAh battery.
What type of charger does the Yocan Apex have?
The Yocan Apex uses a micro USB charger.
Yes. The Yocan Apex is 510-threaded.
Does it have temperature control?
Yes. It has preset temperature settings 3.4V, 3.8V and 4.2V respectively.
What's in the Box
1 x

Yocan Apex Vaporizer

1 x

Extra Quartz Coil

1 x

Dab Tool

1 x

USB Charging Cable

1 x

User Manual
Yocan Apex Manual
Preparing the Yocan Apex
Charge the Yocan Apex Vaporizer at full before use for best results.
Once you have secured a fully charged battery, power the Yocan Apex on by pressing the power button 5 times rapidly.
Note: The power button is the squarish button located right below the airflow vent and above the Apex branding.
Loading the Yocan Apex Vaporizer
Prepare your wax concentrates. Use the inclusive dab tool that comes with the device's packaging to load your materials into the atomizer.
Carefully remove the mouthpiece by unscrewing it out of the battery.
Do the same with the coil cap and carefully remove it from the atomizer by screwing out of the atomizer.
Take the dab tool and scoop up your select wax concentrates and carefully place them atop the dual quartz coil atomizer.
Replace the coil cap and tighten the threads.
Replace the mouthpiece by twisting the mouthpiece clockwise to tighten it.
Vaping with the Yocan Apex Vaporizer
Make sure that the Yocan Apex Vaporizer is fully charged before use to get the best results.
Make sure to reload the atomizer and load the right amount of extract.
Press the power button five times to activate the battery.
Press and hold the power button to activate the heating element on the atomizer.
Repeat this process after the extracts are fully vaporized or you may stop after a full cycle.
Changing the Voltage Level on the Yocan Apex Vaporizer
Make sure that the battery is powered on.
Press the power button three times to toggle through the heat settings.
The heat settings are as follows.
Low – 3.4 volts
Medium – 3.8 volts
High – 4.2 volts
Note: The Yocan Apex uses heating in waves. This means that the voltage level will constantly switch from the heat setting you've selected to a fixed variable at 2.5 volts. This allows a wave-like means of heating your select wax concentrates. It will be normal to observe your atomizer ramping up and down during a session.
Care and Maintenance of the Yocan Apex Vaporizer
The Yocan Apex Vaporizer is made with few parts making it an ideal device to travel with that is likewise easy to clean and maintain. The Yocan Apex Vaporizer is a wax vaporizer that requires only a few steps to clean because of its clever design and engineering. To clean and care for your Yocan Apex Vaporizer, follow the steps below.
Wipe off any dirt or residue on the battery with a dry paper towel and continue to reassemble the Yocan Apex Vaporizer.
Make sure to follow charging instructions and use the dedicated charger to avoid damaging the Yocan Apex Vaporizer.
works great!
I've had it for a few weeks now. I got it to work but I have no idea what the lights mean. The instruction booklet that came with it has the smallest printing I've ever seen. You need a microscope to read it. Yocan should spend less on the fancy box and more on the directions,
Great vape, affordable price
I got this vape because I needed a device for shatter. Works great, very happy with the purchase.