Sale price
$14.99
Regular price
Unit price
per
Sale
Coming soon
Threaded Connections
Textured Edges
TGT Coil Compatible
View full details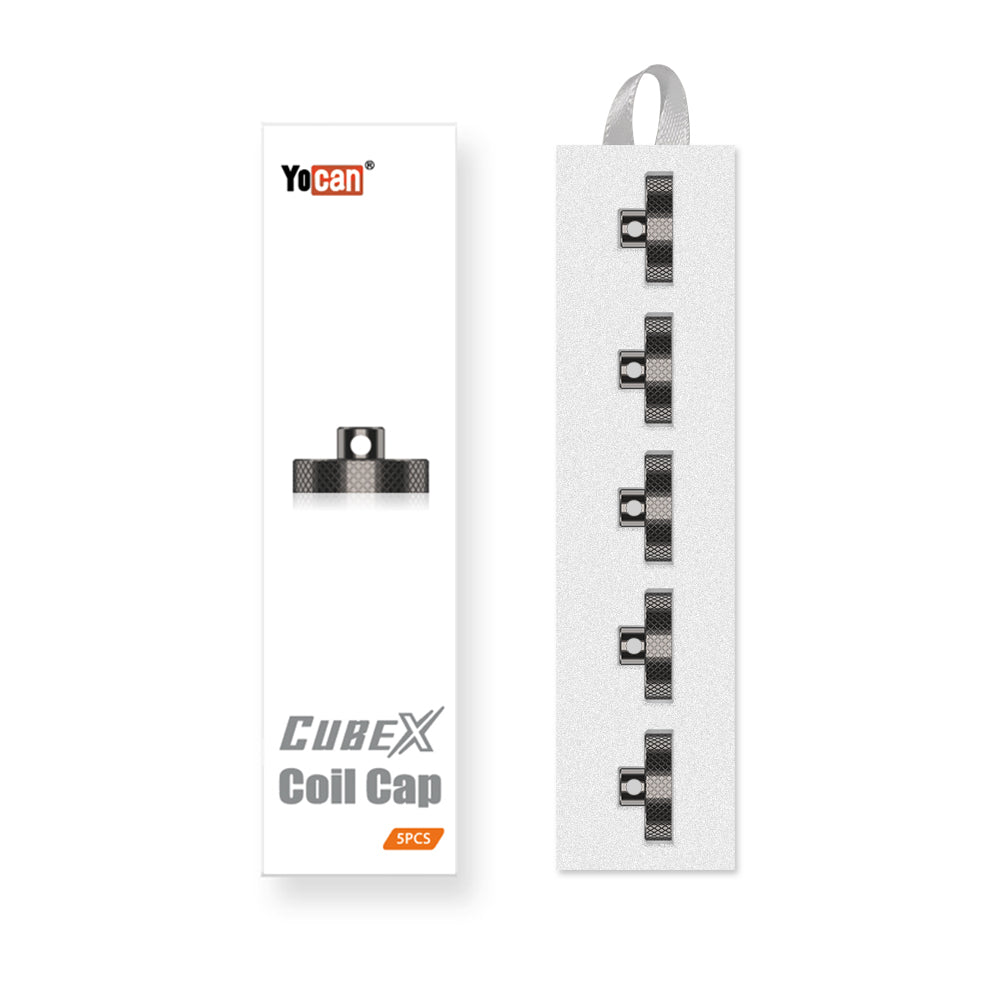 About Yocan Cubex Coil Caps - 5 Pieces
About the Cubex Coil Caps - 5 Pieces

The Cubex Coil Caps is a five-pack replacement coil cap bundle for the Yocan Cubex Vaporizer. It covers the Yocan Cubex TGT (Target Tech) Coil and provide owners with a few advantages that would improve their overall vaping experience. Here are a few things that you can expect from the Cubex Coil Caps and few reasons why you it should be in your arsenal.

Helps with Temperature Retention

For those who have been using vaporizers to consume wax concentrates and essential oils, temperature retention is important. Not only does keeping the coil warm help with easier vaporization but it also helps conserve battery life, and the Cubex Coil Caps helps with both.

First, by covering the coils with the Cubex Coil Caps, it can help seal the temperature produced by the heating element. This way, the coil remains warm and can easily vaporize the concentrates the moment you press the button. This also reduces the stress on the coils as they would not be overworked by constantly going through heating and cooling cycles.

Next, since you don't have to keep on pressing the power button for longer periods of time, keeping the coil cap on can help prolong the battery life of the Yocan Cubex Vaporizer in between charges.

That said, it's important that you vaporize with the Cubex Coil Caps on especially when you're out and about as external temperatures may affect the temperature of the coil, especially when it's chilly outside.

Prevents Unwanted Spitbacks

Another purpose of using a coil cap is to prevent unwanted spitbacks. Spitbacks, for the uninitiated, is when the heated or vaporized material bubbles up and spits hot substance. For obvious reasons, spitbacks can burn your lips or your tongue. Not only does it ruin your overall vaping experience but spitbacks can actually put your health at risk. When you experience burns in your mouth, the affected area can be exposed to germs and other microorganisms. Such occurrence could cause infection and lead to sickness — and these days, nobody wants to get sick.

Furthermore, spitbacks can make your vaporizer messy and even cause irreversible damage. See, when wax concentrates get heated, they melt, and the melted wax can get all over the atomizer base, the mouthpiece, and into the electrical components of the device when left unchecked. This can make threaded connections sticky, the buttons unresponsive, and may even short circuit the electrical parts.

So, it's imperative that you always keep the Cubex Coil Caps on. Not only will it help you avoid spitbacks, it can also keep your Yocan Cubex Vaporizer clean and can improve the longevity of your device.

If you need to buy original and authentic Cubex Coil Caps, make sure you get it directly from the source — get it only from Yocan Vaporizer.
What's in the box:  
Excellent service with these Cubex Coil Caps.. They fit my Yocan CubeX perfectly...
Thanx
Good product, great price
This is a great priced vape. Handles multi temps well and battery life good. Good buy
Great products
I ordered the newest vaporizer again. Yocan has the best products. Only problem is I got the bundle pack and they send me the wrong caps they don't fit on my cubeX. Hopefully they'll make this right.