Sale price
$79.50
Regular price
Unit price
per
Sale
Coming soon
Built-in Grinder
Built-in Stir Pin
Temperature Range: 200F - 460F
5-minute Safety Shut-off
OLED Display
Micro USB Charging
2600mAh Battery (included)
View full details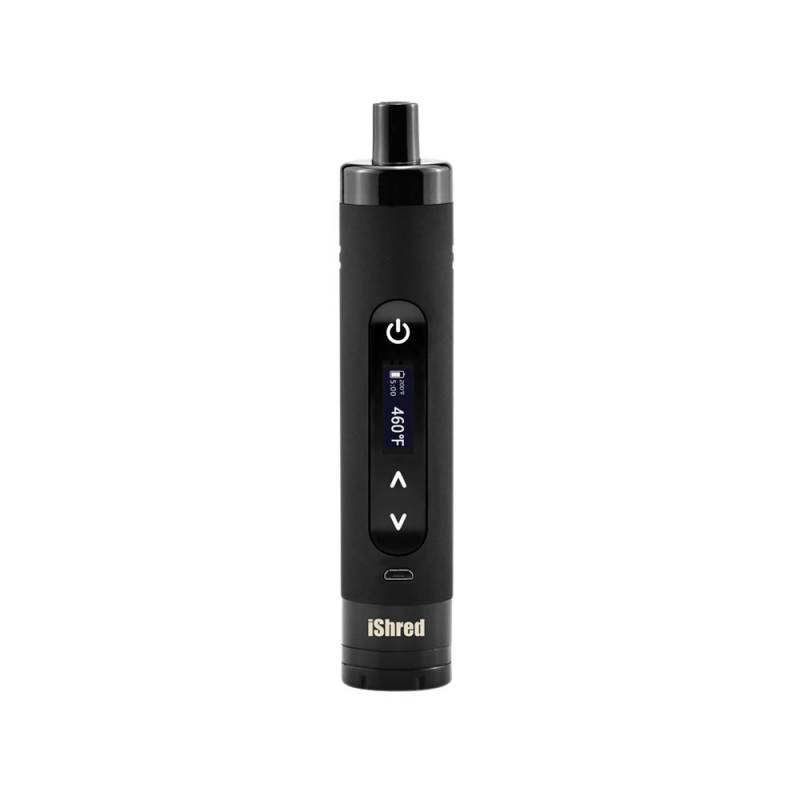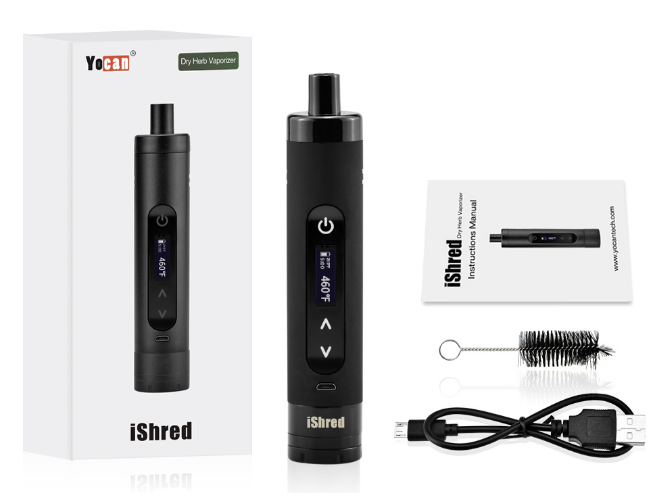 About Yocan iShred Vaporizer
This device was intended for aromatherapy use only.

Anyone who vapes dry herbs know how grinding your loose-leaf materials improve your overall vaping experience. Not only does ground herbs react better to heat but it also allows them to cover more surface area as well as to facilitate even and uniform heating even when compared to vaping chunks and nugs of flowers and herbs. We took portable vaporization to a whole new level, with our Yocan iShred Vaporizer. This vaporizer comes with a powerful 2600mAh battery. It also has a built-in a stir-pin that guarantees seamless vaporization wherever you are. But what sets iShred apart from other vaporizers for dry herb like Yocan Hit is the 3-piece grinder that is attached to it. This grinder has 3 components: the top piece and the middle piece that are both built with teeth, and the bottom piece which serves as your container. You no longer have to carry a separate grinder just so you can experience the benefits of vaping ground herbs. The Yocan iShred essentially combines a grinder and a portable dry herb vaporizer to bring you the ultimate vaping experience.

The Yocan iShred was also designed with a precise temperature setting ranging from 200F-460F. This great functionality ensures your most customized vaporization. It also has a 5-minute auto-shutoff feature to help you save battery and prevents itself from overheating. This vaporizer has an LCD screen that displays the temperature you are at as well as the battery level. With this dry herb vaporizer in hand, you are definitely not going to ask for more! The Yocan iShred is a vaporizer designed and engineered to be the one all be all vaping device for dry herb consumers. The Yocan iShred is the ultimate all in one loose-leaf vape.

The Daily Grind

Grinding or shredding your herbs allow you to break bulks of leaves and flowers into smaller pieces which will easily release their active ingredients allowing you to experience the benefits of your select dry herb strains faster. Grinding your herbs also allow you to pack more material inside your herb chamber, this way you get to load more for longer vaping sessions which saves you the hassle of frequently reloading you chamber with herbs. The idea of incorporating a grinder into a portable vaporizer was fueled by our desire to provide our customers with the best option in vaping dry herbs. No longer would you have to waste material by using your fingers in pulling the leaves and the flowers apart which results to most of the terpenes ending up in your fingers and going to waste.

The Yocan iShred grinder is conveniently located at the bottom of the portable vape pen so you can easily grind your materials without having to lug a separate grinding tool. The concept of the iShred is similar to most Yocan dab pens having a built-in wax container at the bottom of the vaporizer. In this respect, the integrated grinder can also be used to store your material providing you additional storage space to carry extra herbs should you need to reload while on-the-go. The Yocan iShred grinds your favorite herbs in seconds and requires no learning curve making even beginners and vaping novices to use the Yocan iShred with ease.

Yocan iShred, Easy To Use

The Yocan iShred can easily be used as it operates similarly to the average vape pen.

First to get your grind going, pull the bottom part of the vaporizer where you'll find the grinder and twist clockwise. Once the grinding components are separated from the actual vaporizer, load small amounts of herbs onto the grinder and replace the grinding piece back to the bottom of the iShred. Twist grinder to start shredding herbs to finer pieces. The grinder also has a component that works similar to a pollen catcher which catches smaller pieces of herbs that were ground too small to be caught by the filter in the iShred grinder. Once you're finished grinding load the herbs to the chamber.

Like other portable herb vaporizers, the iShred powers on by tapping the power button 5 times. Once on you may dial in your desired temperature through its precise temperature selection screen and start vaping. This is another advantage to using the iShred since the Yocan iShred allows you to fine-tune your vaping sessions and select the right temperature level that would suit your sessions best. The Yocan iShred is also outfitted with a smart memory function which allows it to remember your last temperature setting so you no longer have to dial in your preferred setting the next time you use it. It offers a sort of "set it and forget it" experience allowing you to enjoy easy and convenient vaping every single time.

The Next Level

The Yocan iShred takes your dry-herb vaping sessions to the next level by offering the best features you'd find on some of the most expensive vaporizers and putting an affordable price tag to this uber functional product. Tired of removing and replacing your mouthpiece just to stir the contents of your herb chamber? Well, worry no more since the Yocan iShred also incorporates a stir tool in the actual herb chamber for easy and convenient use.

To put it simply, all you've ever wanted from a dry herb vaporizer is in the Yocan iShred. What are you waiting for? Get yours now!

WHAT'S IN THE BOX

1 x Yocan iShred Vaporizer
1 x Micro USB Cable
1 x Cleaning Brush
1 x User Manual
1 x Retail Gift Box
Buy Yocan iShred Vaporizer Now!
Yocan iShred FAQ
| | |
| --- | --- |
| Question | What is the size of Yocan iShred? |
| Answer | Yocan iShred Vaporizer is 28mm x 145mm. |
| Question | How do I put this device on standby mode? |
| Answer | To put Yocan iShred on standby mode, simply long-press the power button for 3 seconds. |
| Question | What is Yocan iShred's chamber made of? |
| Answer | Yocan iShred's chamber is made of 100% pure ceramic. |
Yocan iShred Manual
Preparing the Yocan iShred Vaporizer
For best results, make sure that your Yocan iShed Vaporizer is fully charged before you use it.
Once you have secured a full charge on the Yocan iShred Vaporizer, turn it on by clicking the power button 5 times. Note: The power button is located at the middle part of the battery facing outwards just above the LCD screen. Take not of the power icon atop the LCD display screen.
Once the Yocan iShred Vaporizer is turned on you can sterilize the heating element by pressing and holding the same power button for 5 seconds two or three times consecutively. Note: perform sterilization during the first time you receive your Yocan iShred Vaporizer. This will eliminate and get rid of any impurities that might have made its way to the heating chamber during the manufacturing process.
After you're finished performing the sterilization process, you can let the vaporizer sit and rest for about 2 – 3 minutes. After you've let the vaporizer cool down, you can now load your select dry herb materials to your Yocan iShred Vaporizer.
Loading the Yocan iShred Vaporizer
Prepare your botanical plant matter first. For best results, use the integrated grinder on the Yocan iShred to grind the herbs to smaller pieces allowing more materials to touch and make contact with the heated surface area.
Make sure you've prepared your Yocan iShred Vaporizer first especially if it's the first time you're using it. Note: Follow steps for preparing the Yocan iShred Vaporizer.
Remove the mouthpiece to expose the herb heating chamber.
Use a loading tool to scoop the herbs or simply transfer the ground herbs from the grinder straight to the herb chamber.
Replace the mouthpiece and ensure a tight seal so the vapors won't escape the chambers.
Grinding Your Herbs Using the Integrated Grinder
Locate the grinder at the bottom of the Yocan iShred Vaporizer.
Twist the grinder counter clockwise to access and detach the grinding piece.
Place an appropriate number of herbs on the grinder.
Replace the grinding piece and start milling. The grinder also has a pollen catcher so you can collect pollen from the materials you grind.
Vaping with the Yocan iShred Vaporizer
Make sure that the Yocan iShred Vaporizer is properly sterilized, fully charged, and is loaded with ground botanicals before vaping.
Once loaded, take the mouthpiece and press your lips against it and prepare to draw.
Press and hold the power button for three seconds to activate the heating element.
Wait till the Yocan iShred Vaporizer begins producing vapors, inhale and pull from the vaporizer.
Repeat this process as necessary or as the herbs are fully consumed. Note: Stir your herbs from time to time for an even burn using the built-in stirrer in the mouthpiece.
Care and Maintenance of the Yocan iShred Vaporizer
The Yocan iShred Vaporizer is made with very few parts which make it a solid device and is likewise straightforward to clean and maintain. To clean your Yocan iShred Vaporizer, follow the steps below.
Make sure to turn the vaporizer off. Five clicks will turn it on and five clicks turns it off.
Remove the mouthpiece to access the herb chamber.
Take the included cleaning brush and lightly graze over the heating chamber.
Replace the mouthpiece.
Best vaporizer out there
This is the best vaporizer out there. I've had this for almost 6 years and it's still the best purchase I've made. It's been dropped a couple times and still works. The rubber gaskets do break sometimes and it sucks yocan doesn't make replacements. We went to a feed store and found some that worked. The cap seal came loose so you can't spin it to stir, but it's still the best vaporizer I've ever used or had. I wish yocan wouldn't have discontinued them. The price is kinda high, but in all honesty it's worth it. When they come out with new ones I'll probably buy 2 or 3 just because that's how good they are and I'll have backups just incase they discontinue again.
Excellent
It's so long since I got mine I can't remember when, around 2017, however it's still going strong still has great battery life and oh yes you sure know when some quality herb is in the chamber I cannot rate it high enough
Great dry herb vape
I've had this for well over a year and it still works great. Set your temp and let it warm up for a minute or so and toke away. Very long, slow hits or as some prefer short quick ones letting the herb recover temperature. I've thought about getting a bigger better more expensive unit but what's the point? This one works great. I don't use the grinder myself but if you're careful the fine threads will last forever.
Ishred - Best Personal Vape Around
My wife and I bought one out of necessity because it was the only one the shop we went to had. It turned out that it was the best accidental purchase we had made in a long time! The threads on the grinder are the only thing that I would improve about this. That's a very minor issue though. It's functionality is excellent. We liked it so much we bought another so we could each have one. As time went on, we both decided we wanted another one (each), so we could have one for daytime Sativa, and one for night time Indica. We were devastated that Yocan didn't make them any longer. Just recently, we've noticed that it's back on the product list and listed as "coming soon". We're on the email list to contact us when it's back for sale. Happy, Very Happy, that they're bringing it back. If you're looking for a personal vaporizer then this is the one you need to check out. The different temperatures are precise and convenient. If you want to get the benefits of certain terpenes you can set the temp to the terpenes vape point and enjoy. All around great machine. Thank you Yocan for bringing it back. You have 2 sales in the bag when it comes back to the market!
Amazing Vape
This vape gets you there!!! Fast and really easy to use. Accurate temperature for optimal effects. I didn't like the grinder mine keeps cross threading. Great vape I recommend it to everyone.